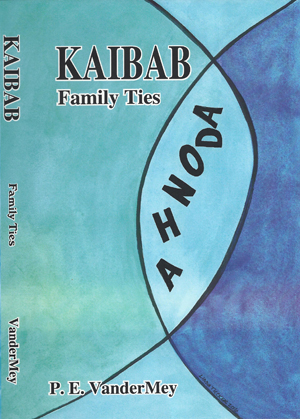 Kaibab: Family Ties, book 2
By Paula VanderMey
Christian Fiction | Historical Fiction | Children's Fiction | Young Adult | Fantasy

Inspiration for Kaibab: Family Ties, book 2
The inspiration for Kaibab: Family Ties, book 2 was the creation of the 1st book in this series.

Synopsis:
Historical Fiction | Book Placed Within the Grand Canyon
Alex and Lily find travel is still quite dangerous, but they are determined to see their children. Lily continues to amaze Alex with her bravery in the face of danger. What is wrong with Alex? Why is any acting so strangely? Will Melissa survive the pregnancy? Will Ahnoda choose his heart or his traditions? Will the ties that bind this family be strengthened or will they lose touch? Meet some new family members in book 2 of the Kaibab series.

This book is set in the early 1800's when anything west of New York City was an untamed wilderness and only the foolhardy ventured there.

"Great story! Read the whole book in 3 days!" Paul L.
"A real page Turner! Should be on the NYT best seller list!" Dianna M.
"When is the next one coming out?" Amy D.





ages 12 and up Book 2 of 5
203 pages 6 X 9 trade paperback
$14.00 + tax Pronunciation guide in back of book