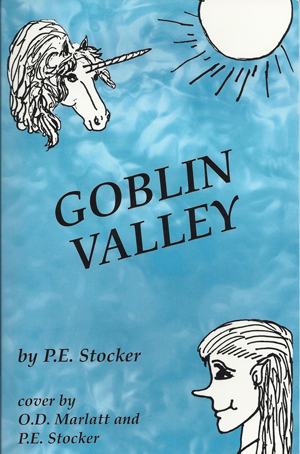 Goblin Valley
by Paula VanderMey
Christian Fiction | Historical Fiction | Children's Fiction | Young Adult | Fantasy

Inspiration for Goblin Valley
Many years ago, on a vacation to Utah, I saw a postcard of Goblin Valley State Park in Southern Utah. I was intrigued by the different shaped rock formations. They looked like people and my imagination took flight.

After several years of research, many long distance phone calls to Utah, and six years of college, I began to write. I actually used the book as my Honors Senior Project in English. The book was released in November of 1999, and continues to be popular.

It was written with 6-9 year olds in mind, but has been read and enjoyed by all ages. I've received very interesting comments from my readers. One mother, reading it to her young child, said "I didn't want it to end". Music to my ears!

Synopsis:
Historical Fiction | Goblin Valley State Park in Southern Utah
This is a porquoi (poor kwa) tale; it tells how something came to be. It tells how the hoodoos came to be in Goblin Valley State Park.
Limpet, an orphan, goes to live with the G'Bling. They discover that he has natural healing gifts. He is loved by all the people of the village and each one teaches him their special skill. Life is happy and basically uneventful, until he meets a forest guardian. When Limpet and the guardian go on a quest for the mystical Life Stone, the results are not what he expects.

The characters are fan and likable, and they will stay with you long after you finish the story. This Children's Book will enchant children, and the issues raised will engage parents.

There is a pronunciation guide in the back of the book.





ages: 6-9, all ages really
74 pages; 5 1/14 X 8 1 I4 trade paperback
$11.95 +tax
Winter Again Publications c 1999 P.E. Stocker (my name at the time)