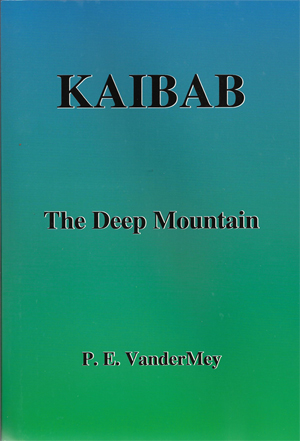 Kaibab: The Deep Mountain
By Paula VanderMey
Christian Fiction | Historical Fiction | Children's Fiction | Young Adult | Fantasy

Inspiration for Kaibab: The Deep Mountain
My publisher's husband was a long-haul trucker before retiring and drove the southwest routes. After reading Goblin Valley , he talked to me about the Kaibab National Forest and wondered what kind of people or creatures might live there. The idea intrigued me and I started working on it.

Two years of research, and a Tai Chi book, the story came together. It wasn't as I had originally envisioned, but after reading all the research, the change was inevitable. I am delighted with the final story and the feedback has been exciting! This is book one of five. They will be out one at a time over the next several years. I am currently working on book five.

Synopsis:
Historical Fiction | Book Placed Within the Grand Canyon
After the death of his twin sister, Ankodosh heads west to begin a new life. He is curiously drawn to the Grand Canyon area, even though he planned to go all the way to the end of the new continent. (?)

He meets some interesting people and wonders about their uncanny presence whenever he needs help. He also meets a wolf in distress who becomes his best friend.

Questions begin to mount as he gets to know the people, but he finds no reason not to trust them. When he meets a beautiful girl, more questions arise. As he unravels some, more take their place. Can he find the answers he needs in time?

This book is set in the early 1800's when anything west of New York City was an untamed wilderness and only the foolhardy ventured there.





ages 12 and up Book 1 of 5
400 pages 6 X 9 trade paperback
$17.00 + tax Pronunciation guide in back of book