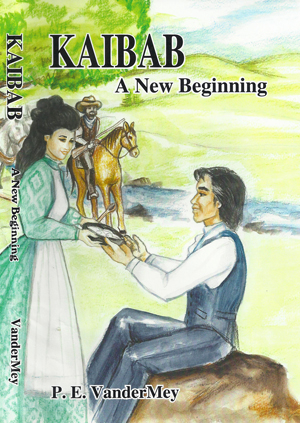 Kaibab: A New Beginning, book 4
By Paula VanderMey
Christian Fiction | Historical Fiction | Children's Fiction | Young Adult | Fantasy

Inspiration for Kaibab: The Quest, book 4
The inspiration for Kaibab: The Quest, book 4 was the creation of the 1st book in this series.

Synopsis:
Historical Fiction | Book Placed Within the Grand Canyon
Lily and Alex are on their way to start a new life with the children. Travel is still very dangerous as they find out at the beginning of their journey. Attacked by a band of outriders, Dan is shot. When one of the men causes Lily to fall, they discover that the kaibab are already with them. When they finally reach Mr. Sims' outpost, they thing their troubles are over, only to find that there are more ahead. You'll enjoy the surprises, twists, and turns in this book.

This book is set in the early 1800's when anything west of New York City was an untamed wilderness and only the foolhardy ventured there.

Book is now available for purchasing.






ages 12 and up Book 4 of 5
182 pages 6 X 9 trade paperback
$14.00 + tax Pronunciation guide in back of book
This book includes a family tree for the Kaibab characters.